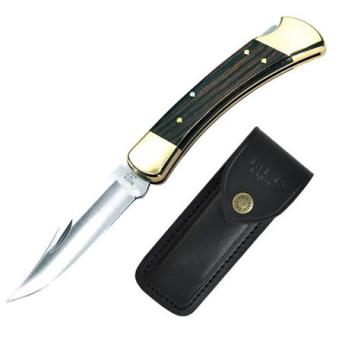 Buck 110 Folding Hunter Knife
---
The Buck 110 is perhaps the most legendary pocket knife ever made. Many people, when thinking about a pocket knife, often think about the Buck 110, whether intentionally or not. This model might also be the most copied pocket knife ever. 
Buck 110: first popular back lock
The Buck 110 was one of the first large-scale produced pocket knives with a back lock. In fact, this pocket knife made this lock popular. Throughout the years Buck has produced millions of Buck 110 pocket knives.
The 110 Folding Hunter has a solid construction. The 420 HC steel is firmly placed inside the handle, and the handle itself is made from stunning classic materials. With messing bolsters and inlays made from ebony wood.
Please Note that you must be 18 or older to order this Item
---
Share this Product
---
More from this collection